Hans Frei was one of the great instrument makers in Italy in the early 1500's. In his workshop in Bologna he helped to define the form of the lute. A testament to the enduring quality of his instruments is that no extant Frei lute remains in original condition. They have all been updated with the passage of time and the fashions of music with new necks to accommodate more strings and new tunings.
This model is based on an instrument by Hans Frei now in the Wein Kunsthistorisches Museum, no. C34. This model has been chosen because it is a very beautiful and comfortable form with a full, bright tone. It is an ideal lute for both beginners and experienced players.
The original instrument, in its present form, is an 11 course instrument for baroque tuning. This is a later adaptation of the instrument, which was probablymade as a six course instrument. To supply the needs of a variety of players this instrument is offered as a six, seven, eight, nine, and ten course renaissance lute.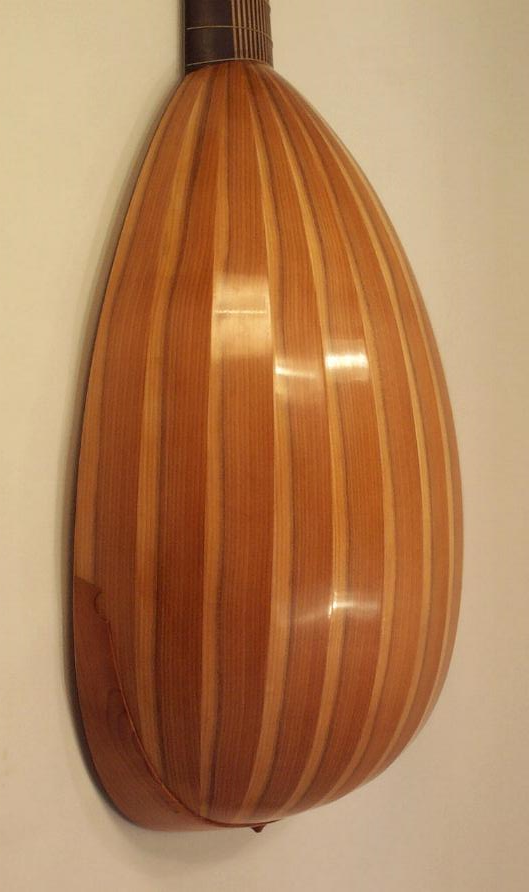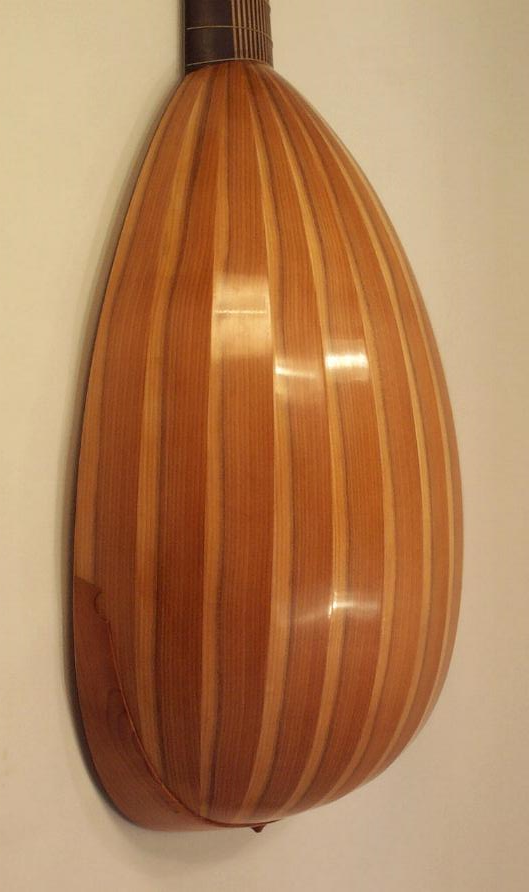 Basic Lute Features:
String length 6, 7, 8, 9, and 10 course models- 63cm or 64cm
Body length - 44cm
Body width - 31cm
Overall length - 74cm
11 rib cherry wood back
Cherry neck
Cherry fingerboard with rosewood edges and points
Choice of pegs
"AAA" Englemann spruce front
"A" pattern rose design
Rosewood end pin
Bone nut
Nylon strings with wound nylon basses
* The 11 course baroque model has an Ebony veneered neck with an ebony fingerboard
In addition to the instrument described above and pictured, enhancement features can be added to the instrument.
Optional features:
The basic model instrument comes with a good quality engelmann "AAA" quality spruce front. Other qualities of front wood are available as an optional feature. Please click on this link to go to the page that explains all of the front woods available.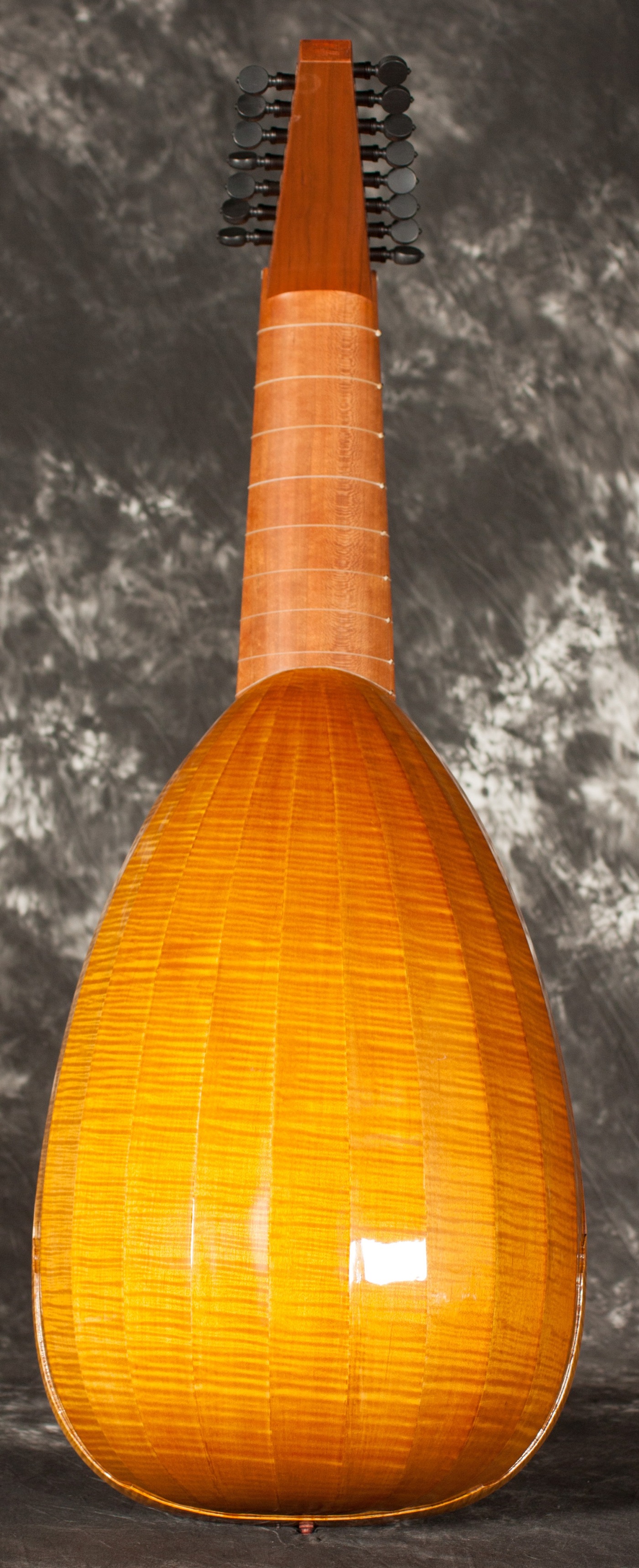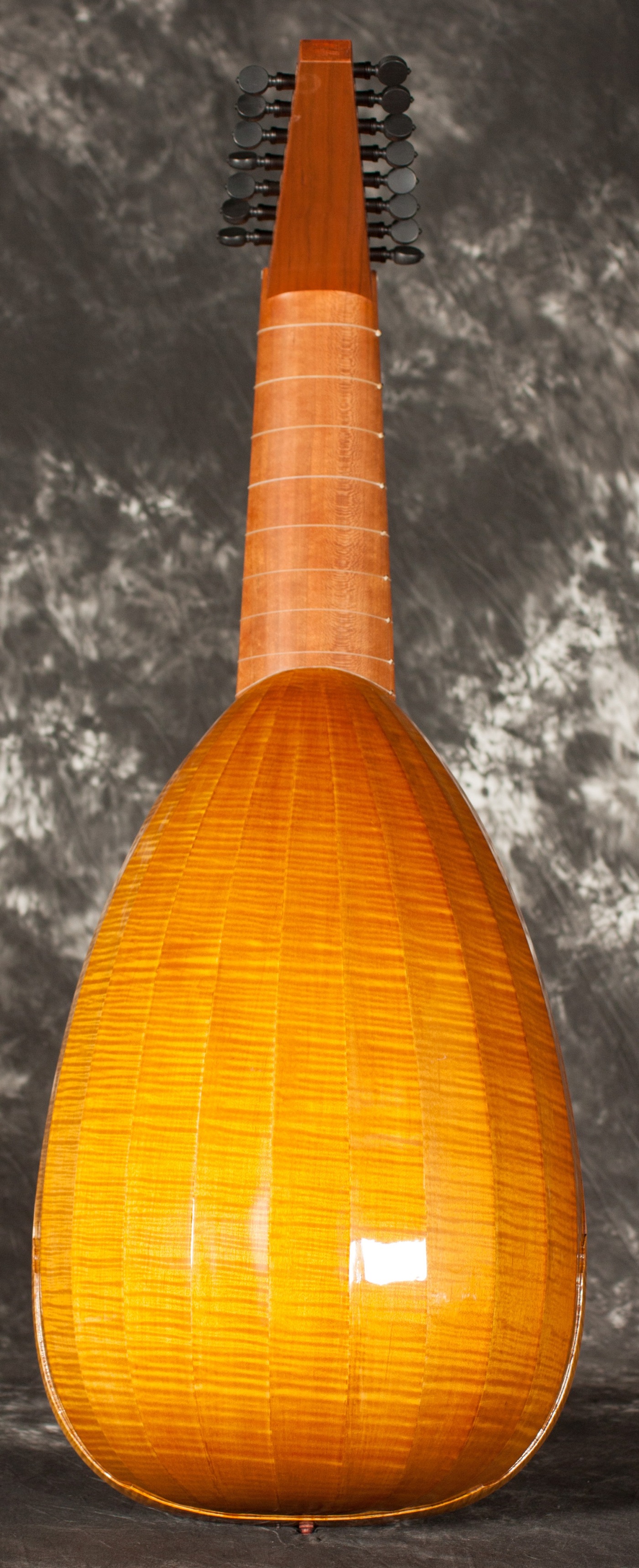 Western Red Cedar
Sitka Spruce
Figured Sitka Spruce
Italian Alpine Spruce
Back woods available:
Figured maple
Bird's eye maple
Yew
Pear wood
Additional, custom features available:
Ebony edge binding only
Ebony edge binding with ebony heart
Ebony edge binding with mother-of-pearl heart
Boxwood edge binding with boxwood heart
Ebony rib spacers
Gut string set
Ebony fingerboard with points
Ebony veneered neck
Ebony veneered neck with holy stripes