The 59 cm Venere Model Lute
This instrument is modeled on an instrument made by Venere in 1596 in Bolonga, Italy now in the Vienia museum, number C64. The original instrument has a string length of 64cm. I have scaled the design down to 59cm for this reconstruction to make it more adaptable to modern playing techniques and pitch.
The adjusted body outline has been compared to another Venere lute in the Bolonga collection that has a string length of 58cm to insure a consistent instrument style.

The bowl is made up of thirteen ribs and has a flattened profile. That is, it is wider than it is deep. This shallow profile brings the plane of the strings closer to the body, making the instrument easier to play. The thinner sound chamber also gives the instrument a quicker, more projective tone than one with a fuller, half-round profile. The tone of this instrument is very full and powerful with a sustained ring.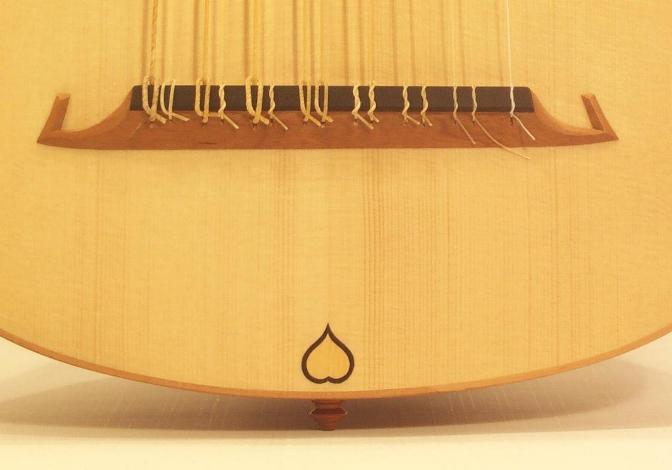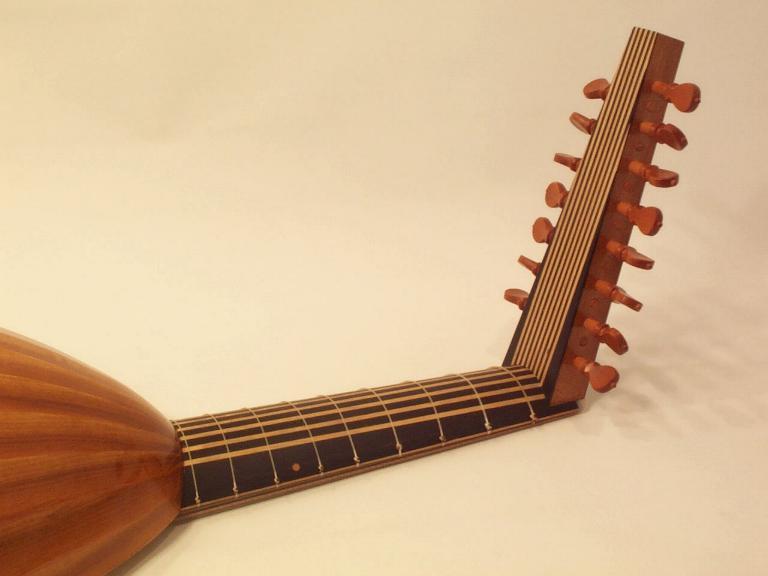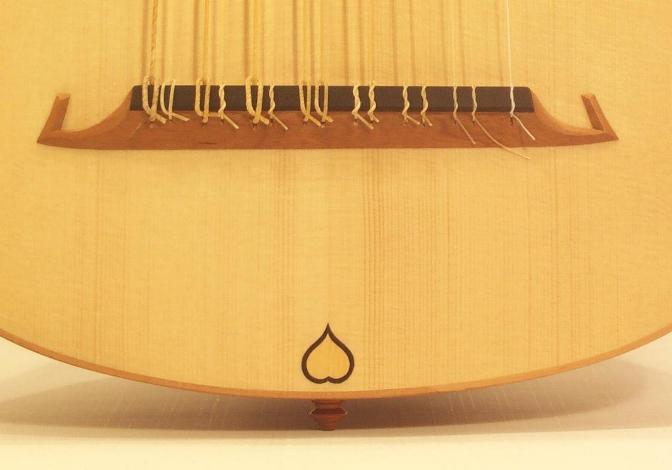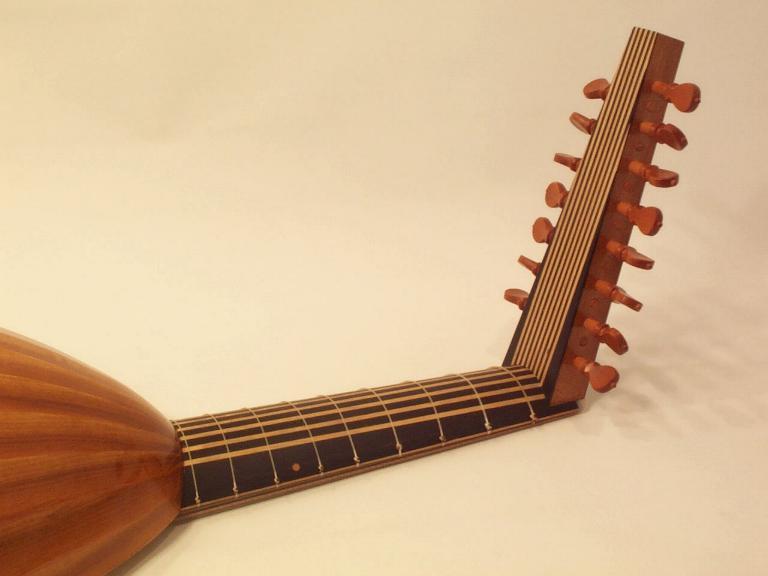 Basic model features:
Back: Eleven figured ribs
Neck: Cherry wood
Head: Cherry wood
Choice of ebony, rosewood or boxwood pegs
Front: "AAA" Engelmann spruce
Rose: Pattern "A"
Fingerboard: Cherry with rosewood edges and points
Nut: Bone
End Button: to match pegs
Strings: Nylon and fluorocarbon with wound nylon basses
This lute model is available as:
Six course lute

Seven course lute,(as the original)

Eight course lute
Basic Model lute specifications:
59cm string length
Overall length - 28"
Body width - 17 1/4"
Body Width - 12"
Body depth - 5 1/2"
String spacing between courses at bridge, (8 course), 10.1mm
Spacing between strings in course at bridge, (8 course), 4.9mm
String spacing between courses at nut, (8 course), 5.7mm
Spacing between strings in course at nut, (8 course), 3.1
Optional features include:
Back options:
Pearwood back
Figured maple back
Bird's eye maple back
Yew heartwood back
Decorative spacers in rib joints:
Front wood:
AAA Englemann
Western red cedar
Sitka spruce
Figured sitka spruce
Italian Alpine spruce
Figured Italian Alpine spruce
Front binding:
Ebony binding
Ebony binding with ebony heart
Ebony binding with mother-of-pearl heart
Boxwood binding with boxwood heart
Fingerboard:
Ebony fingerboard with ebony points
Neck veneer:
Ebony neck veneer
Ebony/holly striped neck veneer
Pegs:
Ebony
Rosewood
Boxwood
Mechanical PegHed pegs
Gut strings:
Rose:
A choice of nine different rose designs
Case:
Form fitting, custom made Kingham case
Instrument package includes:
Instrument
One-year membership in the Lute Society of America
One-year warranty